Market research is one of the most effective business strategies companies employ to maintain an edge over their rivals. This month we have put together a blog on qualitative research methods that will aid you through the process of identifying the best technique for your next market research project.
Market research encompasses qualitative and quantitative approaches; both techniques are utilized to gather information to gain insights or support decision making. As a general overview, we will be covering the following qualitative research methods: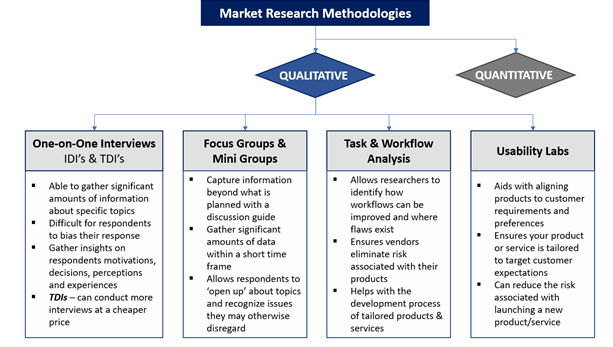 One-to-One Interviews
Face-to-Face
Face-to-face (F2F) interviews are one of the most commonly used methods to collect data in market research. They allow us to gain insight into an individual's motivations, decisions, perceptions and experiences with regards to a product or service. F2F interviews may be used instead of telephone interviews because the respondent's body language and facial expressions can be studied. Respondents are able to touch and use products or prototypes and it is easier to review complex workflows on a flipchart/whiteboard. A successful F2F interview relies on a well-structured interview guide that allows moderators to steer the discussion with each respondent.
Telephone Depth Interview
When F2F interviews are not feasible, Telephone Depth Interviews (TDIs) are an equally effective qualitative research method. When some research options are not feasible or are unnecessary (e.g. usability testing), TDIs remove the need for travelling to facilities and therefore reduce cost and time.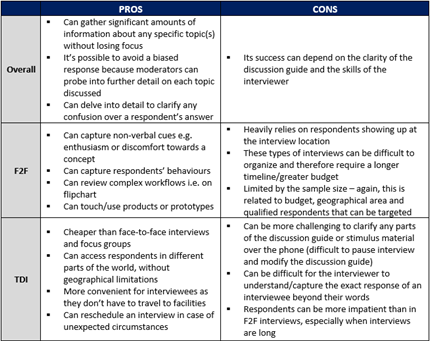 Focus Groups & Mini Groups
Focus groups are an excellent way to uncover the motivations and decision-making criteria of healthcare professionals. This technique consists of interviews in which several respondents are asked questions in an interactive way, allowing them to talk freely to other group members about their opinions, perceptions, motivations and attitudes towards a product, service or any other concept.
Within this group there are also dyads and triads. These consist of very small focus groups (two and three respondents, respectively) where respondents may have some degree of connection. This could either be a specific job title, employer or experience level.
Task & Workflow Analysis
In task or workflow analysis, workflows are broken down and examined to identify where they can be improved. This approach is very useful and can be utilized throughout the product development process to help examine problems and solutions associated with a task or bottleneck to support an iterative design process.
Usability Labs
Usability Labs help to better align products to customer requirements and preferences. In its simplest form, it is the process of understanding how easily your target audience find it to use your product or service. At IDR Medical, we mostly focus on usability testing for end-user experience and its relation to the value proposition and commercial success of the product.

IDR Medical has over a decade of experience in qualitative research methods and conducting market research tailored to healthcare markets. As a renowned market research industry leader, we have conducted projects in over 30 countries to drive success of the products and services of our clients.
If you are planning a new medical device or service launch and need guidance on pricing strategy, identifying purchasing behaviour, opportunity assessment or any other service do not hesitate to contact us. We would be delighted to offer a primary consultation, consisting of an initial discussion by telephone or face-to-face, in order to outline our proposed research approach, with explanation and rationale.