Brand equity describes the value of a brand, determined by consumer perception.
It is driven by a company's branding and marketing alongside the quality of the customer experience. Measuring brand equity and subsequently improving it will influence a company's ability to attract more customers and inspire them to remain loyal.
The growing importance of brand equity is widely recognized by business strategists and researchers alike.
Although financial performance indicators are important, they are usually limited and do not offer long-term insight into how to invest in brand building. Brand equity can be used to measure the progress of brand growth and keep track of brand health over time.
Without an understanding of a brand's current equity, medical device companies can struggle to set clear brand goals and outline a marketing direction that will foster growth.
The IDR Medical approach: Brand Equity Wheel
IDR Medical proposes using a "brand equity wheel" composed of four important dimensions of brand equity: Awareness, Loyalty, Quality and Leadership, and Positioning.
Each of these key measurements are analysed against pre-determined, specific criteria and contribute towards an overall brand equity score which is tracked over time.
The score, alongside in-depth analysis of each of the key measurements, can be compared across markets, customer stakeholders, and against competitors to give insight into brand health and highlight opportunities for improving brand equity.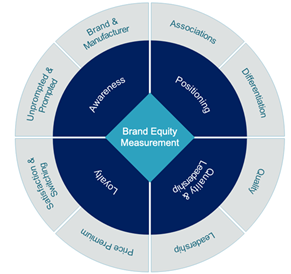 1. Awareness vs. Competitors
Customer awareness of your products and services is an important part of brand equity. If a brand has high awareness it will increase customer confidence that the brand is reputable. Therefore, increasing awareness can lead to better acceptance of the product or service and drive customer choice.
2. Positioning vs. Competitors
Measurements of positioning can be split into "associations" and "differentiations". These are usually unique to a brand and can highlight potential strengths, vulnerabilities, and opportunities in comparison to competitors.
Brand associations include all the assets and liabilities a customer links to a brand. These qualities can drive differentiation between brands and influence purchaser behaviour. Uncovering associations can allow brands to further develop and reinforce positive attributes whilst strategizing to combat any negative associations.
Brand differentiation is a summary measure of each brand's associations. Without differentiation a brand will struggle to maintain a price premium and compete for market share.
Therefore, it is important to understand the extent to which a brand is perceived as being differentiated vs. competitors and what the drivers of differentiation are.
Loyalty vs. Competitors
Loyalty is an important aspect of brand equity that encompasses direct measures with existing users. Other brand equity measurements such as awareness and quality can be examined by their ability to increase customer loyalty.

Price premium
One of the most important indicators of customer loyalty is price premium; the difference a customer will pay for one brand compared to others.
It is of such importance that acting on any other component of brand equity should be reflected in changes to the price premium. To measure price premium accurately, your sample must be stratified geographically and by customer type.
If an emerging competitor is not included in determining this measure, the brand equity measurement could be inflated.
Satisfaction and switching
Satisfaction is an important measure of customer loyalty built on user experience. A brand that prioritizes customer satisfaction will likely maintain/ grow their loyal customer base, whereas increasing rates of customer dissatisfaction will influence a customer's decision to switch brand.
Satisfaction measurements need to be personalised to the product/ service and benchmarked against competitors.
4. Quality and Leadership vs. Competitors
Perceived quality is often at the core of what customers are buying, and in that sense, it is a bottom-line measure of brand equity. When perceived quality improves, generally so do other components of the brand equity.
Greater levels of perceived quality will maintain a higher price premium and increase use of a brand.
Although perceived quality is a key measurement of brand equity, it can often lack sensitivity. For example, if a brand has high perceived quality but is not considered a leader overall, its brand equity will be limited.
Brand equity score
For the purposes of management and tracking, it is useful to have a single overall measure of brand equity. This summary score can then be analysed and compared across markets, product types and customer stakeholders.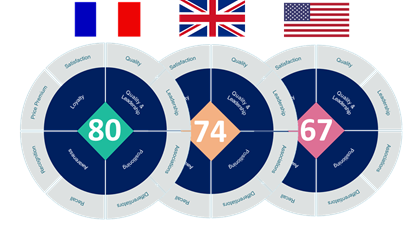 The overall summary score can give an indication of a brand's health across different segments and can be further analysed by each component of the brand equity wheel.
This high-level insight can highlight areas of brand equity that require improvement across segments and can help plan strategies to improve brand health.
It is important that brand equity is measured repeatedly over time to track the success of any strategies aimed at improving brand health.
Would you like to learn more?
Check out our eBook on Brand Equity, or if you would like an initial telephone discussion to understand how we can help your device take market share with our services, do not hesitate to contact us.