The US healthcare reimbursement systems consist of a mix of public and private third-party coverage, in which employers, individuals and the government all contribute to the costs related to healthcare:
Individuals and employers pay premiums to private insurance companies to cover healthcare costs
Government coverage is provided at the federal level (Medicare, Department of Defense, Bureau of Indian Affairs) and state level (Medicaid) to specific populations. These sub-populations typically include the elderly (65 and older), low-income, disabled, and veterans, among others
Private insurers may also provide care coverage to citizens that receive government insurance (Medicare/Medicaid)
Decision Makers and Influencers for Device Reimbursement
Private Payers
Employer-based coverage
Fully insured health plans. Under this coverage an employer purchases insurance from an organization within the state. The insurer collects premiums from the employer and covers the services and costs of health service claims of the employee.
Self-funded employee health benefit plans. Under self-funded arrangements, an employer or employee's organization is responsible for paying healthcare services. Under these plans the financial risk is held by the employer.
Individually Purchased Health Insurance
Individually purchased health insurance is health coverage acquired by individuals and not provided through an employer. These consumers pay a premium without employer contribution and typically have higher out-of-pocket spending.
Public Payers
Medicare
Medicare is the largest payer in the US. While it originally covered only those aged 65 or older, independent of income and medical history, it has now expanded to include citizens with permanent disabilities and end-stage renal disease under 65.
Medicaid
Medicaid is a health coverage program that provides care to people that cannot afford their own medical expenses. It is available to low-income individuals or families that fulfil certain criteria. Amongst the health services Medicaid covers are hospital stays/visits, doctor or emergency room visits, prescription drugs, and others.
Healthcare Reimbursement Systems and Coverage Process
To be able to use a new medical device in a care setting, it must first be approved by the Food & Drug Administration (FDA). The type of regulatory approval a device must undergo depends on its claims, with the most common paths to market being Premarket Approval (PMA) and 510k. After successful revision by the FDA, a device is approved and receives market authorization. At this point a device can be sold; reimbursement, however, depends on the payers.
The healthcare reimbursement system in the US is the process whereby either Commercial Health Insurers (i.e. private) or Government payers (i.e. public) pay for the product or service delivered by healthcare professionals. To ensure product reimbursement, there are three essential criteria that must be fulfilled: coding, coverage and payment.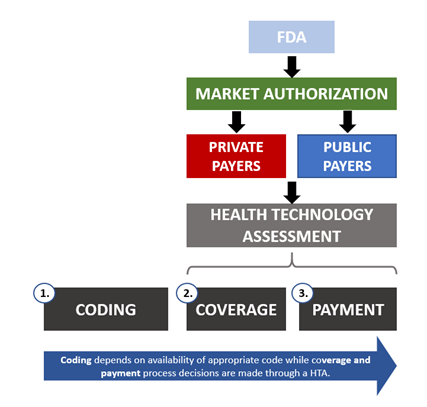 1. Coding
As hospitals across the country might use different terminology to describe a certain service or procedure, coding systems are used to standardize definitions and billings. There are three different code types with each being used for a specific purpose, these describe:
Medical/surgical services (CPT codes)
Signs/symptoms/diseases (ICD codes)
Inpatient services (DRG codes)
These codes are combined so healthcare providers can claim payments and reimbursement for services and any costs incurred.
2. Coverage
Coverage decisions depend on the payer. Some of the key factors that determine this are:
The type of technology that is intended to be used, and if it is reasonable and necessary
If the technology used in a procedure meets a medical necessity criterion
What is covered by the insurers; this could affect the type of technology the patient can access
Population sub-types, notably ones that have very severe diseases or have failed previous therapies
Whether it's a service in the range of benefits available to a beneficiary
3. Payment
Having determined what is covered and the respective costs incurred, a dollar amount is assigned to the procedure, product, or technology. The payer identifies an appropriate payment method and is then able to process the claim.
Key Opinion Leader Support
Receiving support from key stakeholders is another essential step to achieving reimbursement. This is typically done through having stakeholder groups work together to develop and communicate evidence that could demonstrate an improved benefit of a new product.

Data Requirements for Device Coverage
One of the ways a medical device can be evaluated is through a Health Technology Assessment (HTA), whereby the properties and effects of a product are tested to inform health outcomes.
In the US, each payer has their own process for HTAs, and while there are no universally set standards between each organization (whether private or public), the steps taken are somewhat consistent.
For private payers, a technology assessment committee is responsible for reviewing submitted technologies based on clinician demand, volume of claims and manufacturer submissions. This process consists of several steps aimed at reviewing, discussing and evaluating independent literature and product information with clinical experts and other stakeholders. As with any other assessment process, payers look for data that will demonstrate improved clinical pathways, treatments, prognoses and outcomes.

Organizations such as the Blue Cross Blue Shield Technology Evaluation Center also provide assessments for their own members. On the other hand, the Agency for Healthcare Research and Quality (AHRQ), which is part of the Department of Health and Human Services (HHS), provides technology assessments for the Centers for Medicare & Medicaid Services (CMS) to inform national coverage decisions
While each payer may give a different weight to the evidence provided, the usual categories assessed for a new product are safety & effectiveness (i.e. FDA approval), risk-benefit analysis, clinical outcomes (benefits to the patient) and economic outcomes (cost-effectiveness).
IDR Medical recognises the need to ensure your device demonstrates value to clinical advocates and administrative stakeholders and payer. We can help your firm demonstrate the added value of your devices, communicating the contribution for improved patient outcomes and care cycle cost reduction, to ensure adoption and reimbursement.
If you would like an initial telephone conversation or a face to face meeting to discuss your project, or would like more details about our services and capabilities, please contact us here.