The art and science of strategic decision making
Making strategic decisions is an essential part of product development, but this doesn't mean that it has to be a daunting prospect for everyone involved.
At IDR Medical, we're frequently approached for our expertise on medical devices to support our clients with business-critical decisions relating to new product development. We have subsequently made it our mission to help them make as robust business decisions as possible.
In particular, we recognise that the direction our clients choose to take at these critical junctures can dramatically impact the lifetime value of the new product. Therefore, these decisions need to be based on the best data, information and insight. However, the quality of the decision-making process is just as important as the quality of the evidence!
As a result, our latest guide has been designed to help you with this difficult process and to ensure you are making informed decisions for your business by addressing:

The importance of intuitive and objective decision-making strategies
What defines 'good' and 'bad' in this decision-making context
The five different steps to Decision Analysis methodology
And lots more

To download the free guide now and ensure you're conducting the best decision-making processes for your product development, simply fill in the adjacent form. And should you wish to discuss anything you read in the free guide or have a major decision looming that you would like advice on, we'd be happy to arrange a free consultation with you.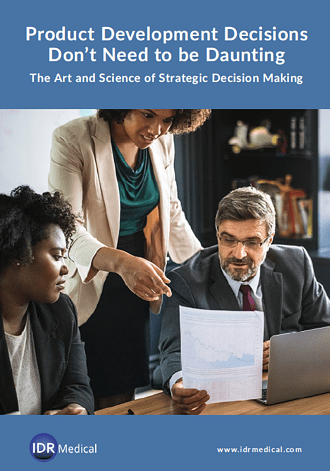 WHY CHOOSE IDR MEDICAL?
"We have been working with IDR Medical for over 7 years now and we are always impressed by their ability to make very complex markets and decisions easy to understand. We value their flexible approach to projects, their global capabilities and their focus on the decisions we need to make. I can strongly recommend IDR Medical" - Director of Business Intelligence